Call me crazy, but I LOVE public speaking. Especially on the threats and opportunities of digital disruption.
So, over the last year I've been especially happy to appear as a subject matter expert for the the Mortgage & Finance Association of Australia (MFAA).  As I traveled around NSW to speak at various performance developments days about mortgage lead generation and digital marketing, I had the good fortune to meet hundreds of mortgage broker colleagues. We enjoyed some spirited conversations and I got lots of valuable feedback on what they really think about 'the digital channel' and how they are finding new customers online.
What I Learnt
It's fair to say there is a 'diversity of views'; some brokers hate it, many are ambivalent, and others embrace online marketing as a huge opportunity. Intrigued, I went hunting for industry research so I could learn more. But….I couldn't find any. There is no data available on what is an important question for brokers, lenders, aggregators and consumers: just how are brokers adapting to the rise to the rise of digital channel?
It's fair to say the team and I quickly developed a mild obsession with this. Before we knew it a decision was taken to conduct our own research. In June we circulated an survey to about 3,000 finance brokers in Australia and the results are now available in our report: The Wealthify Broker Digital Pulse™ 2017.
Our Findings
Several clear themes emerge from the inaugural survey:
Almost all finance brokers say they not receiving enough leads
Brokers continue to rely heavily on 'referrals' and offline partnerships, even as the digital channel grows in prominence
The majority of brokers have only 'poor' to 'fair' engagement and competency with the online channel
We've listed the key findings in an infographic below: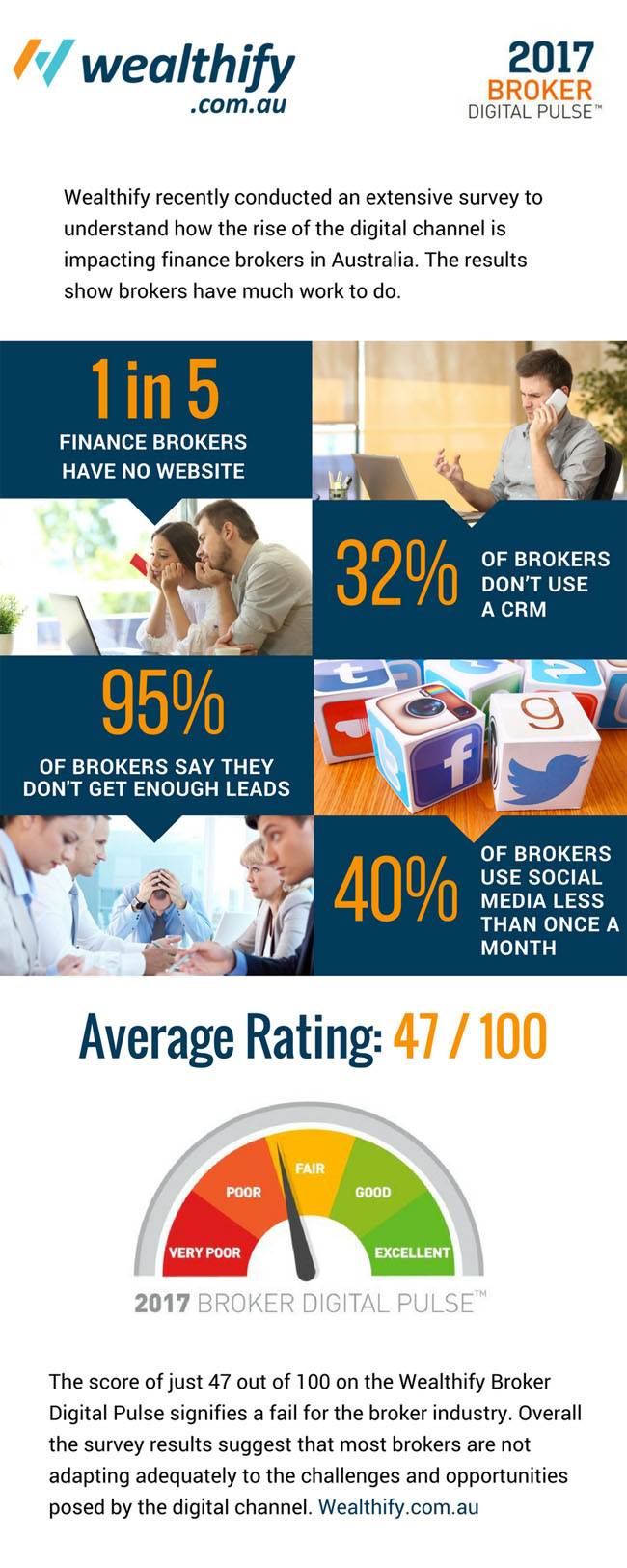 Next Steps
In publishing "Wealthify Industry Survey – Brokers & The Digital Channel," we hope to better educate finance brokers. The weaknesses and challenges identified must be resolved in order to better meet consumer needs in the digital age. Furthermore, our creation of the Wealthify Broker Digital Pulse™ should prove to be a useful index for industry to track progress over time. To get the conversation started, I'd encourage you to share this infographic. I'll also have more to say about each of the key findings with further blog posts over coming weeks.
Regards, Darren