Tired of constantly pressing referral sources for more leads? Need a new lead source for your financial adviser staff?
Then we have something that can help…
Introducing WEALTHIFY FINANCIAL ADVICE LEADS.
Whether you are a financial planner, or a financial adviser dealer group, you can now subscribe to this service so you can get quality leads and focus on what you really are good at – PROVIDING QUALITY FINANCIAL ADVICE.
Financial Adviser Lead Generation
– How Does It Work?
Wealthify is a specialist lead generation firm for the finance industry, and we have developed this online solution that has the capacity to target Australians who are in need of expert financial advice from professionals.
Our team of lead generation specialists will manage the whole lead generation process.
We guarantee that you'll get financial advice leads generated in the name of your business and delivered straight to your inbox!  
All the key elements required for financial planners to run a successful online lead generation are included in your monthly subscription:
Landing page templates

Ad copy & campaign management

Conversion optimisation

Web design & creative direction

Copy writing

Customer Relationship Management (CRM) platform

Geo-targeted to your city/region

Personalised support

Lead management guide

FREE Gift 'lead magnet' eBook

And more!
"Can I Just Use Google or Facebook Ads?"
Of course you can try to generate your own financial planning leads using Google or Facebook Ads. But many financial advisers who attempt online advertising themselves (or even with an agency) get a poor result – or no result at all. 
Lead generation requires specialised set of skills that require years of digital marketing experience in at least four disciplines:
Creative direction

Copywriting

Web Design

Conversion optimisation
You may struggle in generating your own leads if you get even one of those elements wrong. It's not surprising why most financial advisers who choose to do this DIY fail, then give up and return to the traditional referral models.
Get Quality
Financial Planner Leads
with Wealthify
It's super easy for financial advisers to sign up for financial adviser leads using Wealthify online platform. Here are additional features:
It runs on a monthly subscription.

Forget about long-term contracts!

You can stop & start at any time.

The leads often start flowing just 48 hours after the purchase.
Don't worry about spending too much as we offer different size packages to cater to your needs: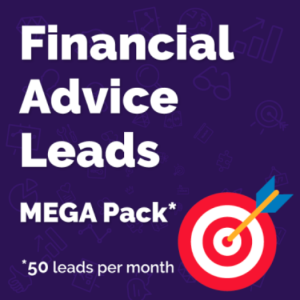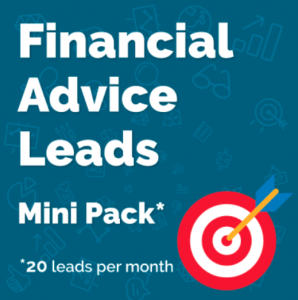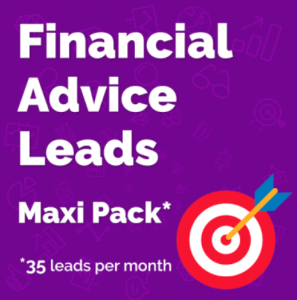 Feel free to leave a comment below or contact the Wealthify team on 1300 410081.
Regards,
Darren