GOOD NEWS! We have just released a mortgage broker training online sales course called the Lead Conversion Essentials.
This course will help finance professionals like you learn how to increase mortgage sales, by converting more leads.
As industry professionals, we have been noticing that there is a huge gap in the market around how to interact with costumers and how to convert leads in the digital era.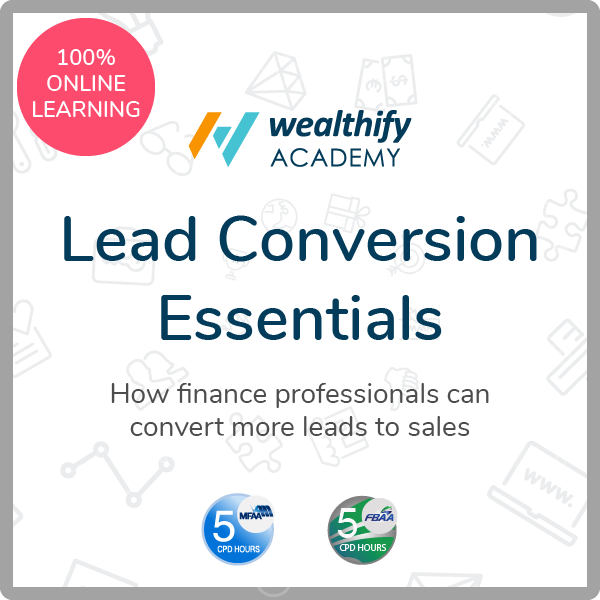 Why do you need the mortgage broker training online sales course?
Easy, because smartphones have changed everything lately.
More than 50% of Google searches happen on mobile devices!
We are aware that conversion is the #1 challenge for mortgage brokers & financial advisers and now, the digital channel is disrupting traditional sales and even referrals are getting harder to convert nowadays.
To be successful in this new sales environment, a new approach is needed to get more sales and this online course is the key.
Delivered entirely online, the Lead Conversion Essentials course has been developed by finance industry leaders to deliver the tools you need, the techniques you should master and really useful strategies you definitely need to convert more and more leads in the digital era.
Who is this online course for?
Specially finance professionals such as:
Mortgage brokers
Financial advisors
Finance brokers
Mobile lenders
Bank managers
Mortgage franchise groups
Mortgage aggregators
What will you learn in this online course?
The essential systems & tools you need to convert more finance leads
The truth about the 'customer journey' – and where you fit in
How home loan customers think, and what they want
The real reasons why you're not converting
Quick actions to boost your conversion rate immediately
When – and how – to call finance leads
The mindset you need to be a top mortgage industry performer
How to 'un-learn' bad sales habits
Easy lead management systems that work
Ethical selling practices & elite conversion tips
And more…
To make it easier for you, we have structured the course in the following modules:
Systems
Customer Psychology
Adviser Mindset
Communication & 'Selling'
Lead Management
Do you want to know more about the mortgage broker training online sales course?
That's how the course works:
Once you have purchased the course, you will get an individual (non-transferable) license to access the Wealthify Academy platform.
Wealthify's online learning platform allows you to save & track your progress so you can complete the course gradually over a period of days or weeks in need. You can work through the course content in your own time, at home or in the office, whenever suits you best.
That's what you will get for purchasing the online course:
5 x course modules
29 x video tutorials
72 minutes of filmed content
70+ e-learning slides
4 x downloadable templates
3 x audio recordings of sales calls
5 x online assessments
Membership to Wealthify Academy site
Access to private online forum – connect with other students
PLUS five CPD points for both MFAA & FBAA
Please note: Bulk order discounts are available for groups and larger organizations – enquire here.
Finally, how much time will you need to spend on the online course?
The Lead Conversion Essentials course duration is five hours approx. and, as we said, at your own pace!
REMEMBER: both the MFAA & the FBAA have approved 5 x CPD hours for completion of the course. Students receive a Certificate of Attainment upon graduation, with the relevant CPD codes to claim credit for both the FBAA & MFAA CPD points.