Why January is a 'hot' time for a lead generation campaign
When it comes to lead generation for financial services and property investors, January might be almost the best time of the year.
I know, it sounds counterintuitive. Everyone's supposed to be at the beach right?
Well yes, but it's more about the change in their psychology….
The common wisdom amongst the owners of consumer-facing service businesses such as mortgage brokers, financial advisers, real estate agents is that January is a 'dead' month and that it's pointless
Wrong. Wrong. Wrong!
Here at Wealthify we've done hundreds of lead generation campaigns since 2016, and I'll let you into a little trade secret: January (and early February) is a brilliant time to generate leads. Here are the main reasons why:
1. People are in a 'change state'.
It's well known that people become more open to trying new things when they in a 'change state'. Most often this requires significant change in the person's life, such as change in job, relationship, home or housing status. It's why these three events are such heavily used targeting options on Facebook: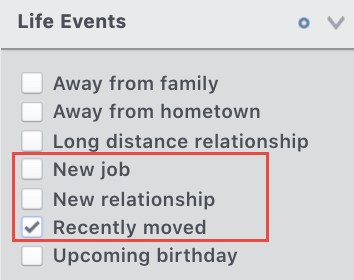 But here's the thing, when people are on holidays they are also (temporarily) in a change state. They are away from their normal patterns of work, home, family. They're often in a new physical environment, trying new restaurants and foods. So this makes them more open to receiving marketing messages that that would otherwise block or ignore.
2. The power of the New Year's resolution.
The Christmas holidays is also a time when many people make a 'New Year's Resolution'. This usually involves the person setting a new goal, or changing an undesirable behaviour in the year ahead.
Financial new year resolutions are consistently in the top 3. In a recent survey of 1,500 people, 44 per cent of respondents nominated 'saving more money' as their new year's resolution. Whether you're a mortgage broker, financial adviser or an investment property adviser this is clearly an opportunity.

Find more statistics at Statista
3. More time to do online research.
When people are relaxing on holidays, guess what? They've got a lot more time on their hands. They tend to use much of that time glued to their smartphone, researching things that have been on their mind. This could be anything from cars, to superannuation, to renovations, to investment property, to home loan refinancing.
You name it, they're online searching for it.
4. Less advertiser competition.
Many corporations and small businesses cut their advertising, or stop it altogether, from late December until early February. That's an eight week window of golden opportunity. Less advertiser competition means it's easier to get generate leads.
But that's not all, it's also easier to convert.
Think about it: if it's common for people to make enquiries with several providers in the same time frame, then the leads you generate in this window will have less competition pitching to them or vying for their attention – because your competitors are on holidays too.
So there you have it: four reasons why January is a great time to run a lead generation campaign. Of course, it means that you need to be available to your customers and working during the holiday season.
But thanks to the power of Zoom, you can look professional from just about anywhere and even whilst in your board shorts!